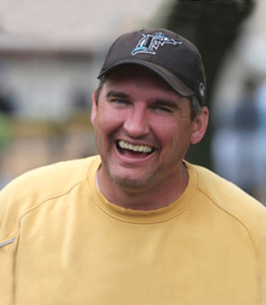 Jeffrey Scott Denzer, age 54, of Watertown, South Dakota passed away peacefully at Sanford USD Medical Center in Sioux Falls, SD on March 16, 2021.

Funeral services will be 11:00 a.m., Monday, March 22, 2021 at Holy Name of Jesus Catholic Church in Watertown with Father John Fischer as celebrant, Erika Davis as soloist accompanied by Jane Rokusek.

*A time of sharing will be offered at the funeral if you would like to share a memory*

Lunch and fellowship at the Knights of Columbus following the interment.

Visitation will be 2-5:00 p.m., with a prayer service at 5 pm on Sunday, March 21, 2021 at the Holy Name of Jesus Catholic Church.

Interment will be Mt. Hope Cemetery in Watertown.

Out of respect for Jeff's family, masks are required for all events. Thank you for your consideration.

Pallbearers will be Jason Denzer, Joe Stellinga, Connor Wendel, Yancey Grangaard, Jeremiah Grangaard, Chad Casanova, Brad Heesch and Jason Lenards.

Honorary Pallbearers will be all who have been coached by Jeff.


Jeff was born in Columbus, Ohio on October 21st, 1966 to Raymond and Pat (Lueck) Denzer. Throughout his life he attended 17 different schools in 8 different states, and graduated from Palmer High School in Palmer, Alaska.

He moved to Winona, Minnesota where he graduated from Winona State University with a Bachelor of Science degree in teaching. It was there that he developed a strong love and passion for coaching youth sports, and also where he met his one and only girlfriend, Julie Plaisance, who later became his wife on June 18th of 1994.

They moved to Watertown in 1995 and brought 3 amazing children into the world, Macy, Jake, and Drew. Jeff was a high school social studies teacher and coach in Watertown and Henry, SD, the assistant recreation director for the Watertown Park and Rec Department where he had the opportunity to coach thousands of children in a variety of sports, and was currently serving as the office manager for Grangaard Construction Inc. As a coach, one of his biggest accomplishments was coaching the Jurgens Printing softball team to 5 national titles and 7 state championships. After his 32 years of coaching, he was proud to say that he played every kid in every game, no matter the circumstances. His goal was not only to win, but more importantly, to provide every athlete with the opportunity to better themselves both on and off the field.

Jeff was a lifelong Minnesota sports fan, always cheering on the Vikings, Twins, and Wild. Other hobbies and interests included coaching and supporting his own children's sports and activities, golf outings, poker nights, Fantasy sports, March Madness, reading, cooking, and listening to music, especially the band Rush.

He was a member of Holy Name Parish in Watertown.

Survivors include his wife Julie, daughter Macy (Connor Wendel) Denzer, sons Jake and Drew, mother Pat, brother Jason (Lisa) Denzer, sisters Jana (Michael) Coulter and Jessica (Gordon) Grgurich, many aunts, uncles, nephews, nieces, cousins, in-laws, dear friends, and his loyal companion Oakley.

He was preceded in death by his father Raymond and maternal and paternal grandparents.


In lieu of flowers, please consider donating to the Watertown Baseball Association PO Box 1461, Watertown, SD 57201 or the Watertown Boys and Girls Club 1000 3rd Ave NE, Watertown, SD 57201.


Wight & Comes Funeral Chapel is serving the family. www.wightandcomes.com.