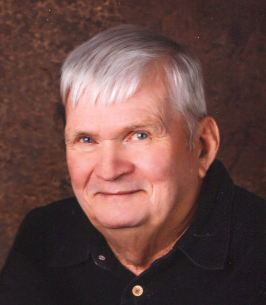 Ronald "Ron" D. Paulson, age 82, of Florence, SD, passed away on Friday, February 11, 2022 at Country View Assisted Living in Florence.

Funeral services will be at 11:00 a.m., Friday, February 18, 2022 at New Helgen Lutheran Church in Florence with Reverend Janet Miller officiating.

Visitation will be from 4-7 p.m., on Thursday, February 17, 2022 at the Wight & Comes Funeral Chapel in Watertown.

Burial will be at the Dexter Cemetery, rural Florence, SD. All are welcome to join the family for a fellowship luncheon at the Florence Community Center following the burial.

Pallbearers will be Jamie Maag, Joe Maag, Justin Halse, Tom Kerr, Aaron Nelsen, Travis Nelsen and Mike Engelhart.

Honorary Pallbearers will be the rest of his grandchildren and great-grandchildren.

In lieu of flowers, memorials may be given in memory of Ron to the Dexter Cemetery or New Helgen Lutheran Church.

Ronald Dean Paulson was born to Joseph and Hilma (Rislov) Paulson on December 22, 1939 in Dexter Township, SD. He grew up on the family farm near Florence and graduated from Florence High School in 1957.

On December 2, 1961, he married Pearl Nelsen at the Florence Baptist Church. The couple were married for 60 years. Ron was a warehouse foreman-truck dispatcher at Hubbard Milling for 44 years.

He was a member of New Helgen Lutheran Church where he was an assistant janitor for many years. He enjoyed bow hunting, fishing, hunting, golfing, snowmobiling, and playing fastpitch softball.

He was an avid Minnesota Twins and Vikings fan. He also worked in the football chain gang for many years. Ron loved following sporting events, very seldom missing his grandchildren's events. He enjoyed the in-home daycare of his great grandchildren. He also loved many travels with Donna and Larry.

Grateful for having shared in his life are his wife, Pearl of Florence; his daughters, Laurie (Mark) Maag and Linda (Larry) Halse of Florence; his grandchildren and great grandchildren, Jamie Maag and his kids, Lauren and Lincoln, Melissa (Jared) Tschakert and their children, Kyra and Jackson, Ashley (Mike) Engelhart and their children, Colby and Aspen, Joe Maag, Jenna (Adam) Jewell and their children, Adrienne and Amelia, Jill (Justin) Weatherford and their son, Kolt, and Justin (Madison) Halse; his siblings, Howard (Barb) Paulson, Bonnie Schwinger and Dianne Sumner of Watertown; his sisters-in-law, Jan Malquist(Tom Johnson) of Eagan, MN, Donna (Larry) Muller of Mesa, AZ, Rosie Nelsen of Ohio, Jeri Paulson of Washington, and Lynn Paulson of Crosby, MN; his brothers-in-law, Dean (Fran) Nelsen of Golden, CO, and Dale (Sue) Nelsen of Florence; and his nieces and nephews.

He was preceded in death by his parents Joseph and Hilma, his in-laws Carl and Doris Nelsen, three brothers Roger, Dayton and Paul, and three brothers-in-law Judean Schwinger, Woody Sumner and Lowell Nelsen.

A special thank you to the staff at Country View for the great care they gave Ron.